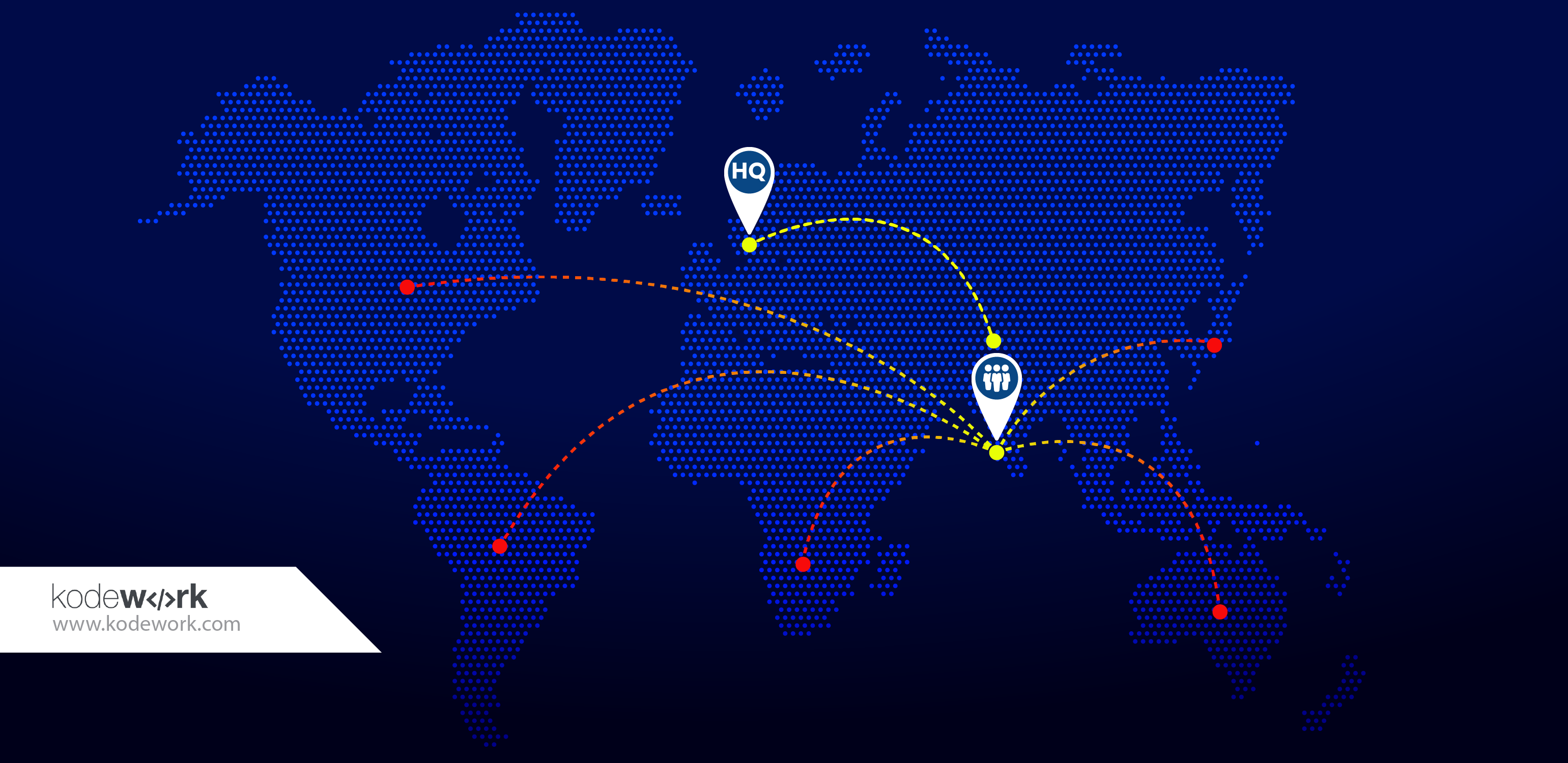 COVID-19 mirrors Darwin's theory – "Survival of the fittest". Wondering how? The ones who will survive this pandemic are, the ones with a strong resolve who is home quarantining with the right resources, those who avoid the temptation of panic spending, and those who maintain basic hygiene rules that are decades-old
Likening this analogy to businesses, what do we learn? The SMBs (Small and Medium-sized Businesses) and agencies won't survive this pandemic because of lack of resources, lack of funds and the lack of a plan to overcome this.  
Large enterprises will survive because of a disaster management and recovery plan, optimized procurement strategy, stronger brand name, decent tech support, flexible work culture, and digital business processes.  
If you are small-to-medium graphic design, digital marketing, logo design, PR, or PPT design agency chances are this pandemic has been harsh on you. Projects that were in the pipeline are now stuck in limbo. With no personnel to work from an office, productivity and revenue have taken a beating.
How can productivity, skillset, partnerships and success all be leveraged during these tough times?
Outsourcing was always here
IT outsourcing is not modern manna. Calling it a 'growth hack' would be an understatement. As per a 2016 Deloitte Outsourcing Survey, 59% of businesses who adopted outsourcing as a strategy, did it to save costs.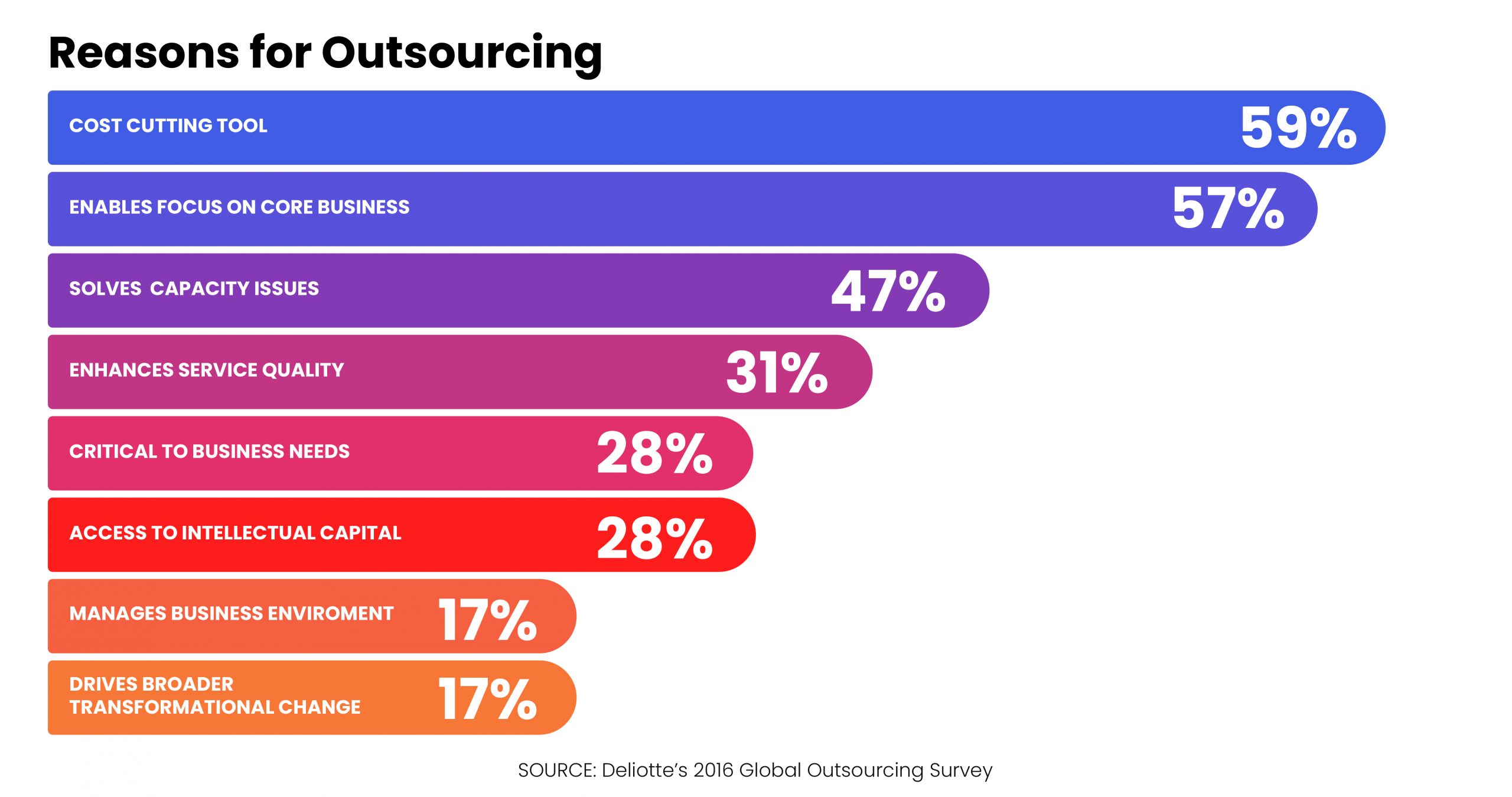 Not a growth hack, but rather a game-changer. Outsourcing projects can save a business in overheads, basic salaries, rent, power, internet, CRM subscriptions and whatnot.  
COVID-19 originated in 2019, but outsourcing was prevalent much before that. According to a study by Eurostat, nearly 5.2% of the EU workforce aged between 15 and 64 worked from home.  
From mid-March, businesses all around the world felt the jolt of either lack in workforce personnel or heightened workload. Panic set in. Clients wanted to go live with their projects ahead of the deadline. 
Businesses struggled to gauge the enormity of the situation. Stock markets crashed, public places such as malls, restaurants, gyms and schools were shut. The workload was one, with handling personal issues coming as a secondary challenge to employees. The pandemic is showing no signs of receding. Businesses must accept the fact that outsourcing is the only alternative to kick start growth. 
Outsourcing is not a 'growth hack' to be tested and tried. It is a game-changing business solution to maintain client relationships, explore new business partnerships and used to integrate it into a functional roadmap for the next 6 months. 
And so was its cousin – IT Outsourcing
IT outsourcing relates to outsourcing IT projects to an external service provider. A top IT outsourcing company will deliver IT-related business processes, infrastructure solutions, software development, web development, and app design services.
During a pandemic, it is important to recognize IT outsourcing partners who can accelerate your company's revenue using digital transformation, mobility, analytics and cloud services.
If 'SaaS' (Software as a Service) was the Dirty Harry, 'XaaS' (Everything as a Service) is the Fast N Furious. A XaaS model encompasses the shift from a capital to a more operational IT infrastructure. It provides greater scalability and flexibility to businesses.
IT outsourcing allows SMBs and agencies to get access to enterprise-grade applications such as CRM and ERP. XaaS allows businesses to focus on developing new business opportunities. XaaS is centred around the Internet of Things (IoT), Machine Learning and Artificial Intelligence.
Outsourcing evolves into its post-lockdown form
In the post-lockdown era, outsourcing will evolve. The effects of COVID-19 will show no signs of abating. Will companies be able to restart working in cubicles? No. Will public transportation be available for employees to travel to work? No.
As per Gartner Peer Insights, product functionality will be the number one reason for SMBs to adopt IT outsourcing to external partners.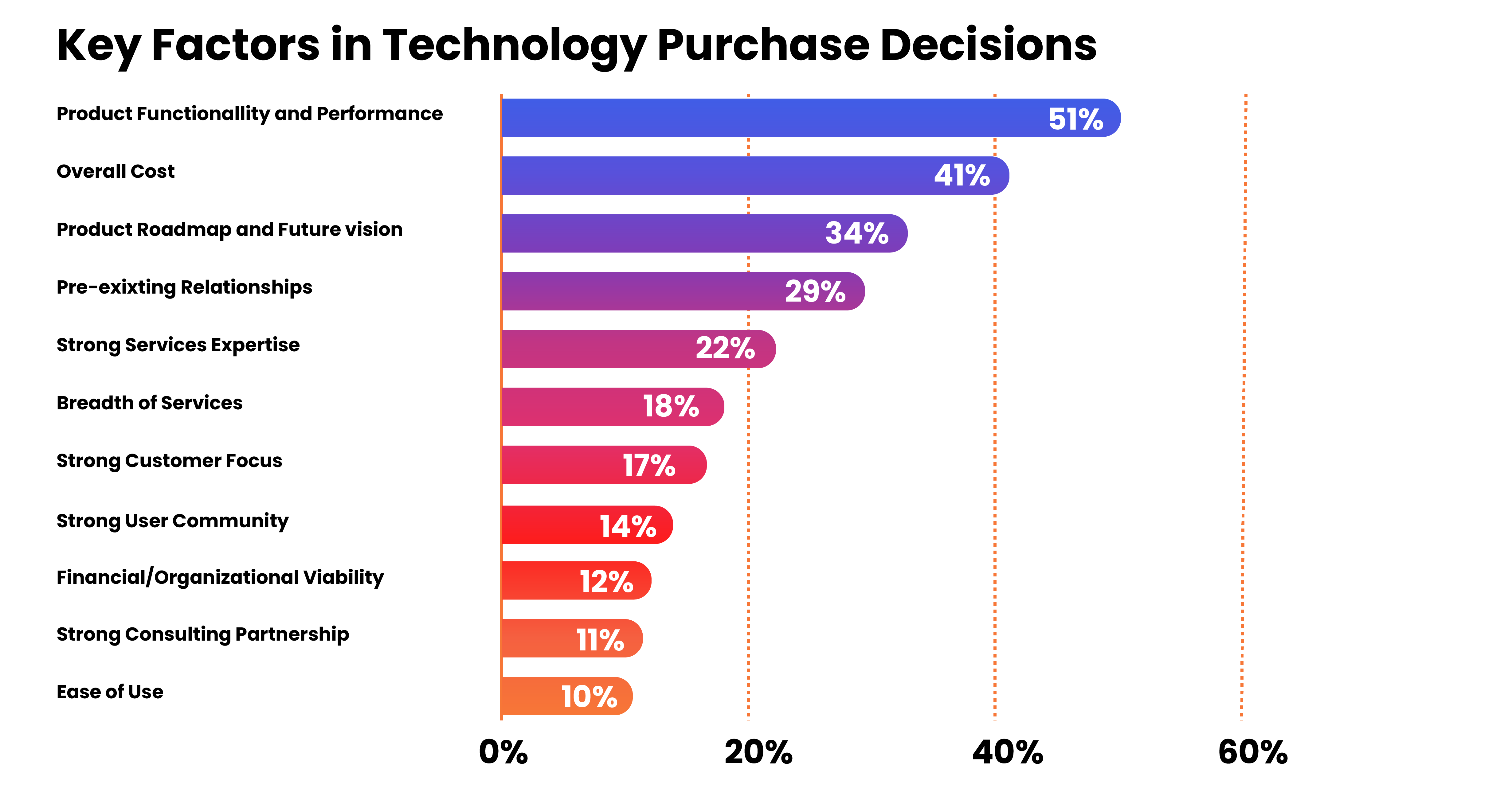 Matt Middleton-Leal, General Manager EMEA & APAC at IT security firm Netwrix, stated that, 
"A major challenge to overcome is the fact that organizations still operate with legacy systems that were never designed for enabling remote access. New technologies such as IoT devices and therefore may be a long way off being suitable for remote teams. Staff is allowed to use their devices to access corporate networks and data presents a very real security risk, which could well be compounded if this practice is continued in the post-pandemic era".
This all-the-more justifies the need to outsource projects. But where should SMBs in the United States or the United Kingdom outsource their work to? 
The spending on outsourced services has grown massively. From US$45.6 billion in the year 2000 to US$86.6 billion by 2018, the amount has doubled.
The United States of America is a major outsourcing region. KPMG analyzed all the outsourcing deals that were closed in 2017 and found that the United States contributed to close to 42% of the total deal value.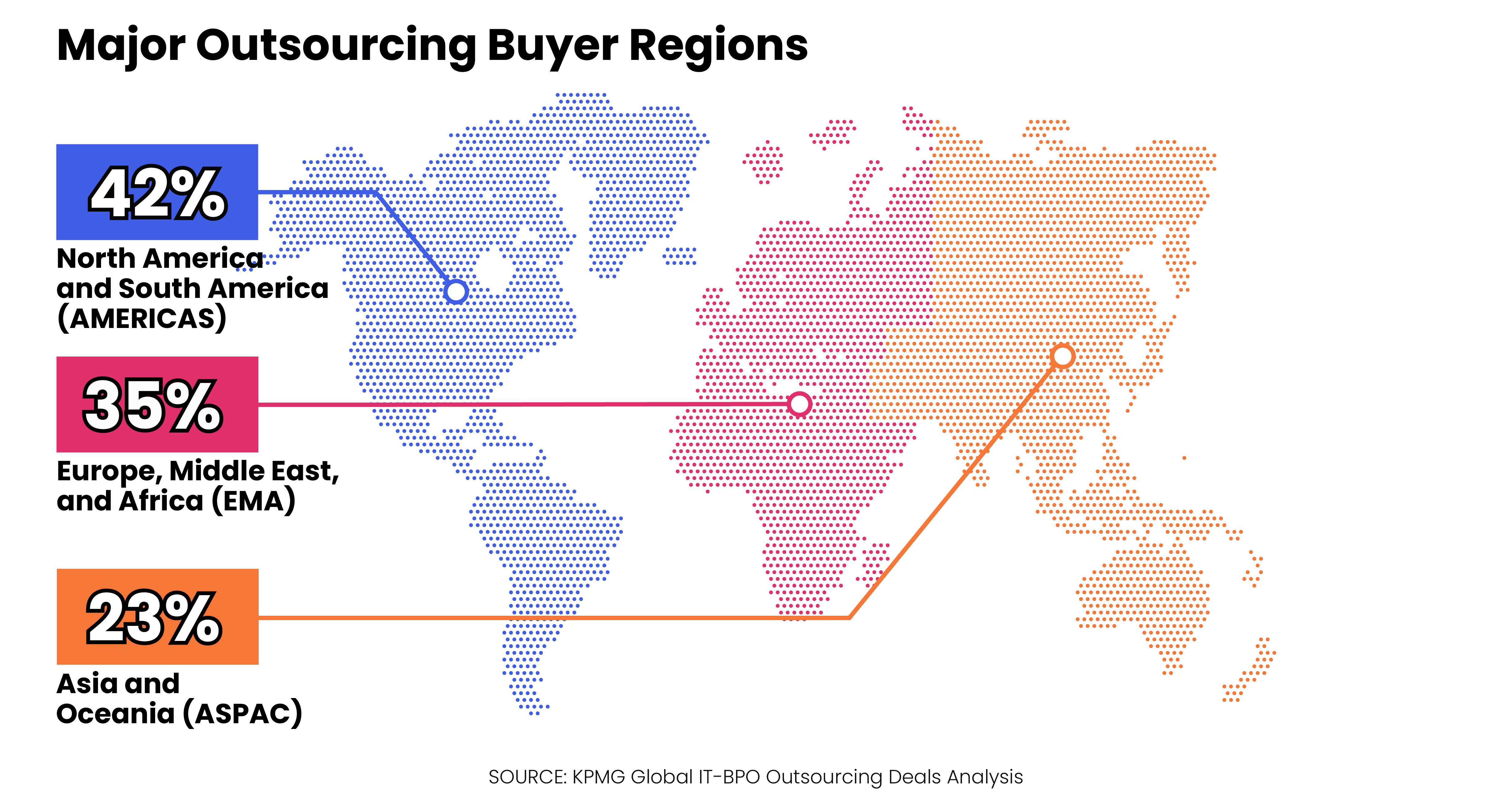 But, post-lockdown, that number will reduce. This is because of the impact of COVID-19. There is an increased willingness to outsource projects to EMA and the Asia Pacific.
 The same KPMG report, published in 2017, cited Australia and India as the key contributors to the global outsourcing market. India will now take the front seat post-lockdown.
No other company in India has delivered better success and stronger clientele than Kodework. Their partnership with companies and agencies across the Nordic region has helped them establish a robust outsourcing hub (consisting of its parent company Nordic Intent, and sister companies Ninestack and Creometric). This hub facilitates projects related to,
Web design

Web development

Software Development

Mobile Application

Artificial Intelligence

Machine Learning

Digital Marketing
and a lot more…
Kodework is headquartered in Oslo, Norway, with offshore development studios in Goa, India. The state of Goa is declared a 'COVID-19 free' Green Zone.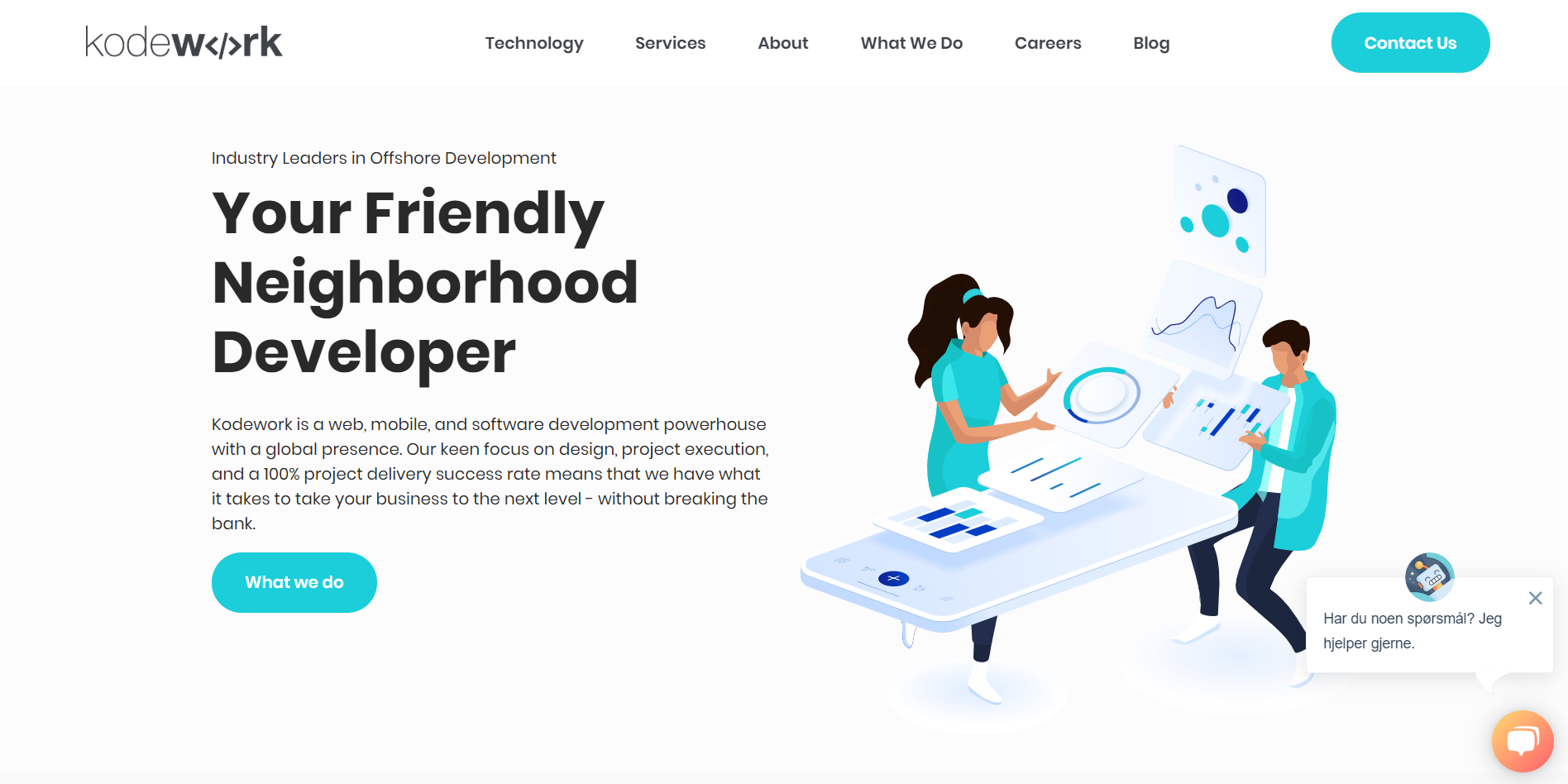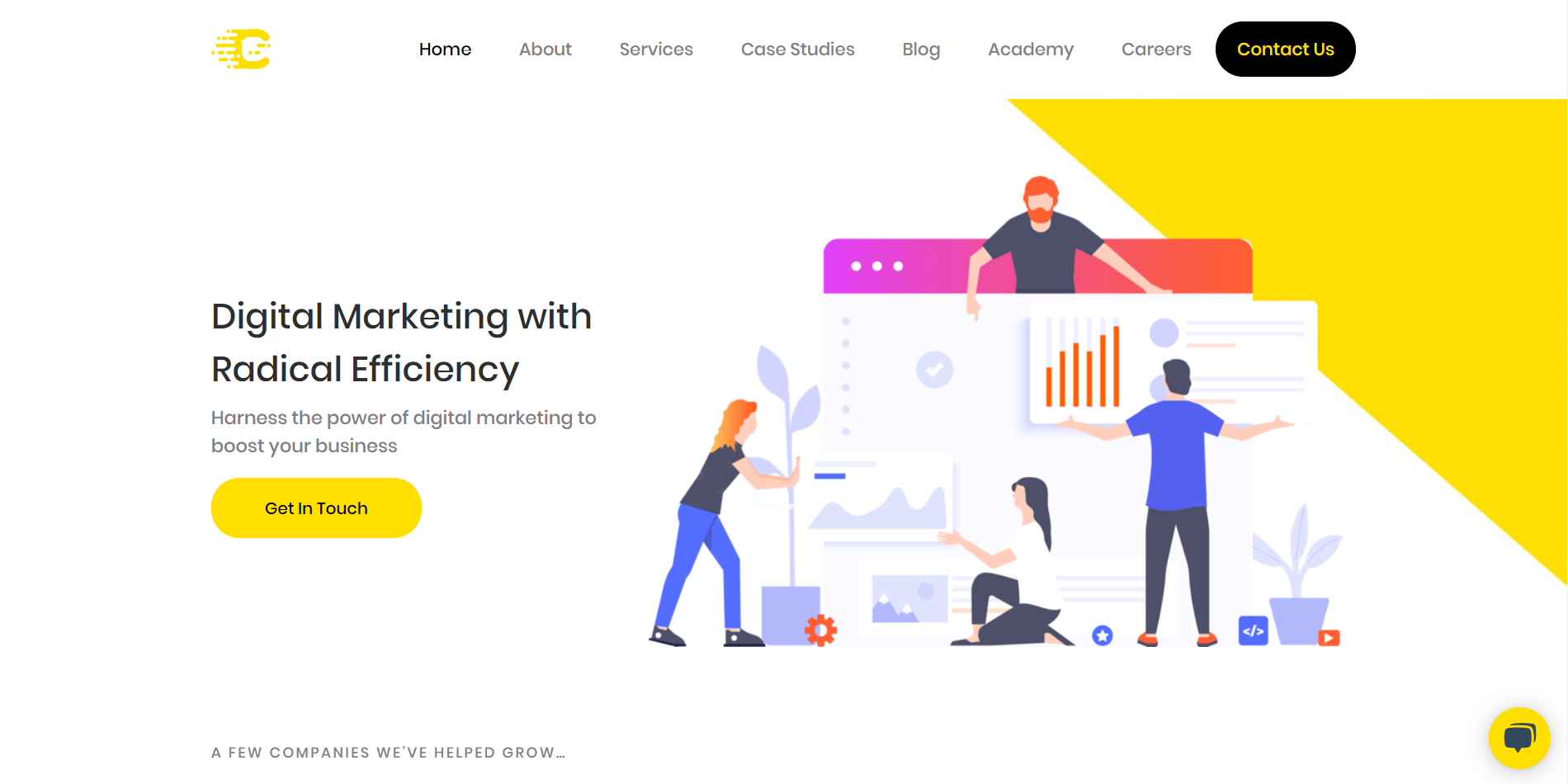 Benefits of Outsourcing to India
The benefits of outsourcing to India are numerous. The National Association of Software & Service Companies (NASSCOM) recently reported that 80% of US and European firms ranked India as their No.1 outsourcing country. 
The same report stated that close to half of all Fortune 500 companies outsource software development to Indian firms.
Differentiators that favour India as an outsourcing super-hub are its friendly government policies, rapidly developing infrastructure, and a talented workforce.
Employees working in India are skilled, highly educated, well-read, and experienced. Almost every Indian professional can converse in English.
India is a fantastic testing ground for new products. Outsourcing projects to India can help a company to focus on its core business activities. Take the example of Kodework. Being a versatile service provider, and located in India, Kodework provides a high quality of work.
During a pandemic like this, business growth is unpredictable. A slow season like this one needs the right number of personnel and resources.
Outsourcing with India's best offshore outsourcing company – Kodework, can let a company handle difficult business situations. IT projects are worked upon by skilled developers with scope for increased scalability.
Labour costs in the US and the UK are expensive. The cost of living is high as compared to other countries. An employer in the US pays for taxes, machines, offices, employee salaries, health insurance and liability insurance. With COVID-19 burgeoning those costs, outsourcing makes sense.
Outsourcing with Kodework can cut down on labour cost drastically. The average fee for a skilled developer in the US is between $50 and $80 per hour. The hourly rate for outsourcing in India starts from half of that. There is a higher margin of profit with reduced cost. Close to 60% of overhead costs can be saved.
Lack of manpower or skilled personnel can run the risk of failed project delivery. Too many employees working on limited projects will bear a loss.
Outsourcing to Kodework can let you hire a core team that can meet your business needs 80% of the time. The bandwidth for project duration can be adjusted easily. An SMB located in the US can still keep its full-time employees at a steady utilization rate through outsourcing.
Setting Up a Successful Outsourcing Partner
Get started to outsource to India by finding a suitable Indian IT service provider. In this case, Kodework. Once you have identified the service provider, keep these simple pointers in mind.
Get on a Hangouts call with the core team at Kodework

Understand how your firm can leverage the skills of each other

Work towards a fruitful business outsourcing contract

Establish your business goals and requirement

Outsource a single project, see how well Kodework handles projects, and then develop a long term partnership

Trust the outsourcing partner the same way an in-house staff is trusted

Review the status of the deliverables at regular junctures

Happy Outsourcing!
IT Outsourcing Trends in 2020
Well, the pandemic has already made 2020 memorable. The first quarter is somehow forgotten. Despite this, some interesting outsourcing trends have already made their bow.
Outsourcing Through Partnerships
Outsourcing will also pave the way for businesses to gain access into an inaccessible skillset. It is always about the people, and not about the money. Outsourcing through partnerships between outsourcing firms is key.
It adds value by gaining access to a new market, lead generation in their respective markets, the fulfilment of getting an ISO 27001 certification, and exchange future ideas.
Multicultural IT Outsourcing
Companies in the United States, United Kingdom, Canada and the rest of Europe will look at economic stability offered by outsourcing destinations. Service delivery stoppages and infrastructural issues are two potholes to avoid.
By 2023, companies were expected to come up with nearshoring and offshoring strategies. That will now be brought forward to 2020.
Increased Range of Services Outsourced
Outsourcing will not be limited to just project management, web designing, business process or agile development.
Artificial Intelligence, IoT, Augmented Reality, Virtual Reality, Cloud, and Machine Learning projects will be outsourced more. Innovation-driven outsourcing will drive the development of digital skills. 
Standardized Outsourcing
Relationships between both parties will be standardized. The process will be people-driven rather than price-driven. Cost pressures will lead to flexible SLAs (Service Level Agreements) and scope of deliveries.
This standardization will drive startups and small businesses to witness a higher outsourcing adoption rate. Outsourcing of low-end services will stabilize with high-end services booming.