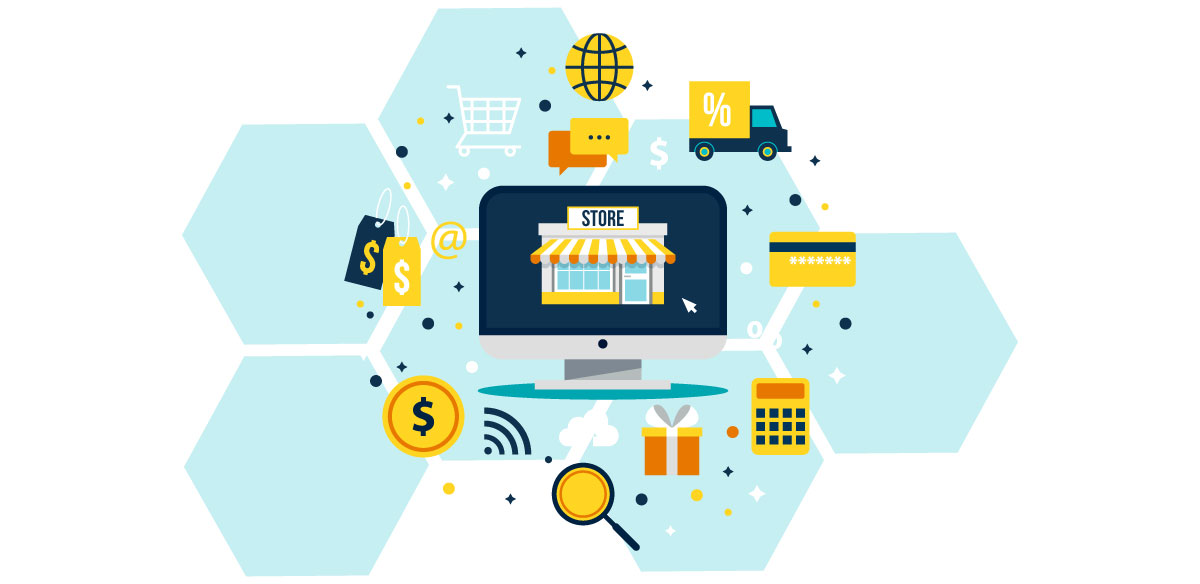 Ecommerce is going nowhere. If 2020 was like a death knell to brick-and-mortar stores, e-commerce only had one place to go – up.
Digitally native brands are exploring voice commerce. Augmented reality-enabled online-to-offline (O2O) experiences are being tested.
Headless commerce is rearing its head (pun intended). Progressive Web Applications (PWA) are becoming the storefront for brands around the world, through video games, live streams, and smart mirrors.
Not just that, malls in second and third-tier cities are being developed as experimental destinations for water slides, ski hills, or theme parks.
The impact on commerce has been severe. More than 85,000 retail stores are expected to close down by the end of 2020. But, don't let that distract you from the fact that,
"When something dies in the mall, it is reborn online. And what is born online, someday makes it to the offline world."
The future certainly looks bright for e-commerce, and the following seven reasons have convinced me of that. Can it convince you?
Ecommerce Inspiration #1 – Grabbing the initiative
The imaginary line between digital and physical is blurring. The growth trajectories between both e-commerce and retails are quite stark.
The global retail market was expected to hit $25 trillion USD end of 2019. That growth is set to taper even further thanks to COVID-19.
Conversely, worldwide ecommerce sales figures were set to hit $3.5 trillion USD by the end of 2019. That is already an increase of nearly 18% from the previous year. That number is set to double by the end of 2023, despite the pandemic.
Even though e-commerce is growing faster than retail, it is still relatively a smaller piece of the pie. Amazon is credited as being the major attributor to e-commerce. It is estimated that for the first time ever, total e-commerce sales is set to beat total general merchandise sales.
Ecommerce Inspiration #2 – Direct-to-customer
Manufacturers and traditional brands are now interested in the direct-to-customer model. This bypasses their retail partners.
Legacy manufacturers are now able to offset stagnant in-store sales figures through e-commerce. Selling directly means you own the customer relationship, collect consumer data easily, and can offer personalized products.
Brands no longer have to rely on retail partners to promote their brands. You can provide support at scale through DTC. Custom packaging, custom assortments, and contests to rope in brand evangelists are all benefits of selling DTC.
Private label brands are seen driving much of the market share growth. This is because consumers are willing to forsake brand loyalty for better value. Private label brands are also taking share in brick-and-mortar and online stores.
Ecommerce Inspiration #3 – Mobile commerce on the rise
Just because your e-commerce platforms have a responsive experience, doesn't mean you are providing an excellent mobile experience. Mobile conversion rates are still far below those on desktops.
If a website takes more than three seconds to load, a user will abandon the website. The mobile bounce rate is also 10-20% higher than desktops.
In order to provide an optimal mobile experience, brands are opting for Progressive Web Applications (PWA). These applications live on the user's smartphone home screen and can load the website instantly, whether the user is online or not.
PWAs are also crucial for headless commerce strategies, where the front and back-end systems work simultaneously to improve mobile performance.
A further step could see PWAs being combined with Accelerated Mobile Pages (AWPs), which are stripped-down HTML copies of web pages that load instantly. This combination could see more top-of-the-funnel traffic and improved conversion rates.
Ecommerce Inspiration #4 – The boom of e-commerce globally
Global e-commerce sales are expected to hit $4.2 trillion by the end of 2020. More than 2.1 billion shoppers are expected to purchase products online.
More than half of the fastest-growing e-commerce countries come from the Asia-Pacific region. Latin America also boasts of accelerated e-commerce growth, thanks to Mexico.
Localization is getting increasingly important for e-commerce to expand internationally. Customers can now pay through their local currencies and also view e-commerce website content in their local languages.
Ecommerce Inspiration #5 – Automation builds productivity
Businesses will put operations on autopilots. This is proving beneficial to international brands that operate multiple stores and large networks.
Ecommerce automation eliminates the manual and repetitive tasks that reduce productivity. New products can be listed on multiple channels. Tagging of segmented customers can improve retention.
Tracking and reporting can be streamlined. High-risk orders can be canceled. Inventory alerts can be set up for marketing/reordering. Third-party apps can trigger workflows outside of e-commerce ecosystems. Frauds can be prevented.
Warehouses can install robots to cut costs, through Robotic Process Automation (RPA). There are nearly 3,200 robot-enabled e-commerce fulfillment centers in the world. 'Level 5 automation' is going to see no humans involved in the e-commerce workforce.
Ecommerce Inspiration #6 – Sustainable e-commerce is rising
Consumers are getting warmed up to sophisticated technology that cuts waste and is more efficient. Green manufacturing practices, reduced waste packaging, and eco-friendly supply chains, minimize any harmful impact on the environment.
Walmart's sustainability index for its suppliers lists out items that can measure corporate greenhouse gas emissions.
Minimalist packaging redesigned shipping cases, and reduced packaging is shaping the future of e-commerce. Amazon now charges its sellers that don't comply with their packaging guidelines.
The packaging must be fully recyclable mailers, flexible, and match the products' size.
Ecommerce Inspiration #7 – Voice eCommerce is aligning with 2020
A report suggests that close to 35% of all U.S homes have at least one smart speaker. This means if anyone from these households places an order online, it will be through voice.
Brands are optimizing search results to include snippets that can be searched for up to 40% via search. These are called Featured Snippets.
The home assistant – Amazon Echo Dot, uses voice commands such as, "Alexa, ask Apple to show iPhones," or "Alexa, checkout", to search or checkout.
Smart TVs are also a growing hotbed for advertisers. Data-driven targeting sees first and third-party apps reach an ideal audience through digital campaigns.
Brands are expected to bid on high quality streaming ad inventories. This will see an omnichannel approach that will cover 2020 and beyond.
If you are looking to build a shopping website that can launch your physical store to an online one, then we can help you set that up.
Also, if you are a Business looking to partner, a freelancer looking to work with us, or just interested in knowing more about what cool things we do, go to kodework.com